3 minutes reading time
(564 words)
MESSAGE FROM THE PRESIDENT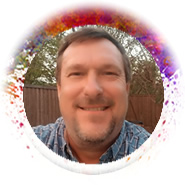 Pride Month is now officially over, and I hope everyone could acknowledge their journey and celebrate what God has created you to be. Whether that was attending or even taking part in a pride parade or event, or just being able to reflect on your personal journey in learning to understand yourself better. Whether you are part of the LGBTQIA+ Rainbow community, a parent or loved one or an ally who loves unconditionally, it has been a journey to get to where you are at this moment. It is never easy to go against the flow of family and society, but you are not alone on this journey. We have a rich history of those who came before us to pave the way for the road we are traveling on. Together, we can work to widen and make the road more solid ahead of us.
For Kinship, this has been a busy month. For me, this culminated in the CALLED conference in Lexington, Kentucky. Although Kinship was not allowed to have an official presence inside the convention, we had a wonderful location in the beautiful park just across the street, where we had a resource and info table set up near a busy crosswalk. This gave us the opportunity to have lots of positive conversations and to share with those pastors and families walking from their hotel to the convention center. We used a nearby Presbyterian church to have two evening presentations on being LGBTQ and Adventist and a panel discussion on how pastors can be more affirming. This conference really gave me hope that a change in attitudes is possible.
As we move into July, Kinship's next big event will be our annual Kampmeeting: this year it will be in-person in Orlando, Florida. Our Kampmeeting team has created an uplifting program for us, and I look forward to being able to welcome many of you for this event. It will be nice to see people and be able to interact in a safe space without having to squint at the computer screen seeing everyone in a tiny box. It is time to step outside the box and to be our authentic selves again.
As we move into this new month, let SDA Kinship be the safe space and refuge that you might need. There are so many crazy and unprecedented things happening around the world that I hate to turn on the TV and news. But it is a comfort to know we have a community like SDA Kinship where we can be our true selves and where we can gather strength from each other. Let us know what is on your heart, what your fears and joys are, and how we can build this community and this movement together to make our corners of the world just a bit better for all of us.
You are appreciated and loved. Drop me a note and share with me what is on your heart.
Happy July!
Floyd Poenitz, President
Cette adresse e-mail est protégée contre les robots spammeurs. Vous devez activer le JavaScript pour la visualiser.
@KinshipPrez (on Twitter)
Stay Informed
When you subscribe to the blog, we will send you an e-mail when there are new updates on the site so you wouldn't miss them.