dim
lun
mar
mer
jeu
ven
sam
Resenha Kinship

20h Horário de Brasília
Resenha Kinship é o programa de uma sexta-feira para começar o sábado (em Português)
Para detalhes, entre em contato com; kinshipbrasil@sdakinship.org.

Kinship Worship

1st Friday of the Month
12 AM GMT (Sat. AM) | 8 PM ET (US) | 6 PM CT (US) | 5 PM PT (US)
https://www.youtube.com/sdakinshipint
https://www.facebook.com/sdakinship

KinWomen Zoom Chat • 8:30 PM ET (US & Canada) • 7:30 PM CT (US & Canada) • 5:30 PM PT (US & Canada) • 8:30 AM PHT Next Day (Philippines)

A time for the women of Kinship to meet for talking and praying together.

Registration required...contact the Director of Women's Interests for details.

Zoom

Region 2 Vespers

Third Friday of each month
7:30 pm ET–6:30 pm CT–4:30 pm PT
For more information email region2@sakinship.org.

4th FRIDAY KINWOMEN SERIES

Alicia Johnson, Speaker
Building Healthy Spiritual Journeys
May 27, 2022
7-8:30 PM ET (US & Canada) | 6-7:30 PM CT (US & Canada) | 4-5:30 PM PT (US & Canada)

Meditaciones Entre Nos

10 AM hora de Colombia / Perú

Para obtener más detalles, comuníquese con kinshipcolombia@sdakinship.org

KinSchool Brasil

Sabado, 16h Horário BrasÍlia. Para detalhes, entre em contato com; kinshipbrasil@sdakinship.org.

Kinship Sabbath School

An accepting, affirming & safe space for LGBT+ & Allies
Every Saturday - 10 am PT
JOIN THE FACEBOOK GROUP FOR THE LINK

KinLounge

Sábados às 18:30 / horário de Brasília. Para detalhes, entre em contato com; kinshipbrasil@sdakinship.org.

Kinship's Local Wisdom Conversations

'Deconstructing the Clobber Texts - Clobber Texts: broke. woke. bespoke' by Tom De Bruin - 1900 BST • 3 AM Melbourne, Australia • 1 AM Perth, Australia • 1 PM ET US • 12 PM CT US • 10 AM PT US

Zoom

Kinship's Local Wisdom Conversations

'Deconstructing the Clobber Texts - Clobber Texts: broke. woke. bespoke' by Tom De Bruin - 10:00 BST • 9 PM Melbourne, Australia • 6 PM Perth, Australia • 5 AM ET US • 4 AM CT US • 2 AM PT US

KinCine

Domingos as 19:30 / horário de Brasil

Rehoboth Beach Mini-Kampmeeting

SAVE THE DATE

Rehoboth Beach, Delaware USA

Kinship's Local Wisdom Conversations

'Co-Constructing an Inclusive Theology - Part 1' – 1 PM EDT • 12 PM CT • 10 AM PDT

Zoom

Families & Friends Zoom Meeting

3rd Sunday of each month
9:30 AM PT / 12:30 PM ET (US)
Presenters: John and Carolyn Wilt

EUROPEAN ZOOM MEETING

11 PM GMT • 10 PM (MSK – Moscow) (9 PM April/May) • 9PM (EET – Sofia/Athens) • 8PM (MET – Berlin/Paris) • 7PM (GMT – London/Lisbon) • 1PM (CT – USA/CND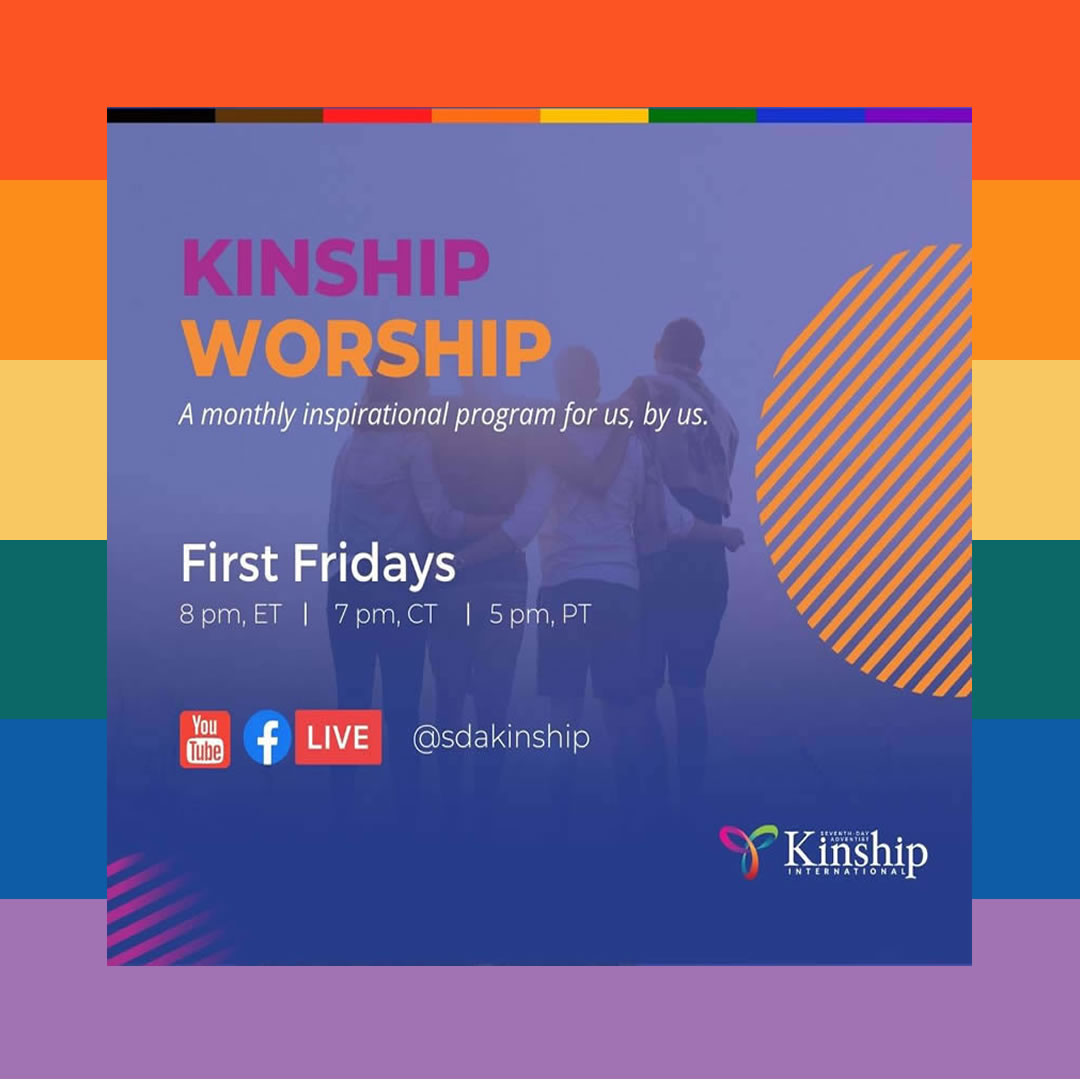 Kinship Worship
First Friday of Every Month
12 AM GMT (Sat. AM) | 8 PM ET (US) | 7 PM CT (US) | 5 PM PT (US)
Kinship Worship is our monthly public worship service that is streamed to our public Facebook and YouTube channels.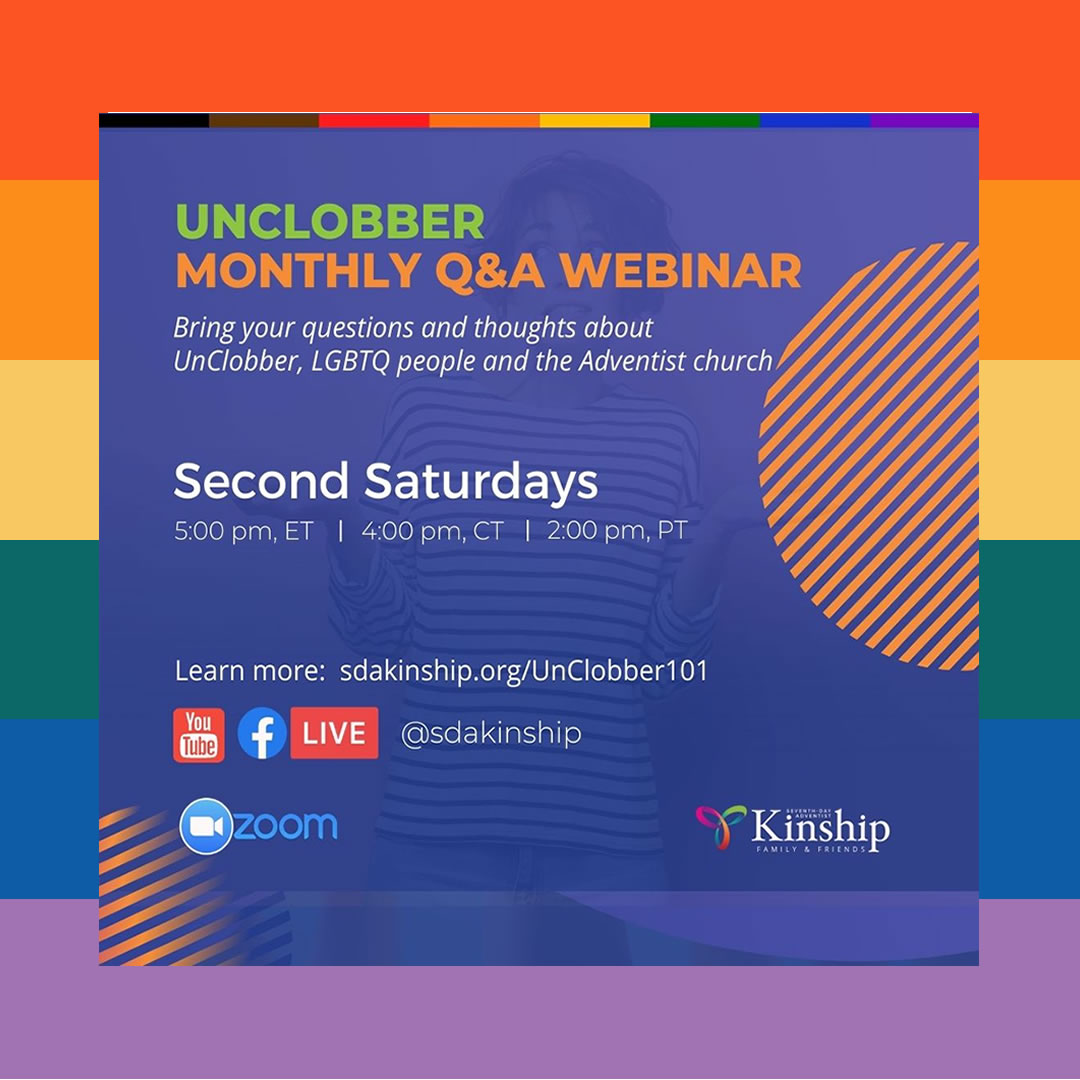 UnClobber Webinar


Second Saturdays
5 pm ET | 4:00 pm CT | 2:00 pm PT (US)
Bring your questions and thoughts about UnClobber, LGBTQ people, and the Adventist church.


LEARN MORE...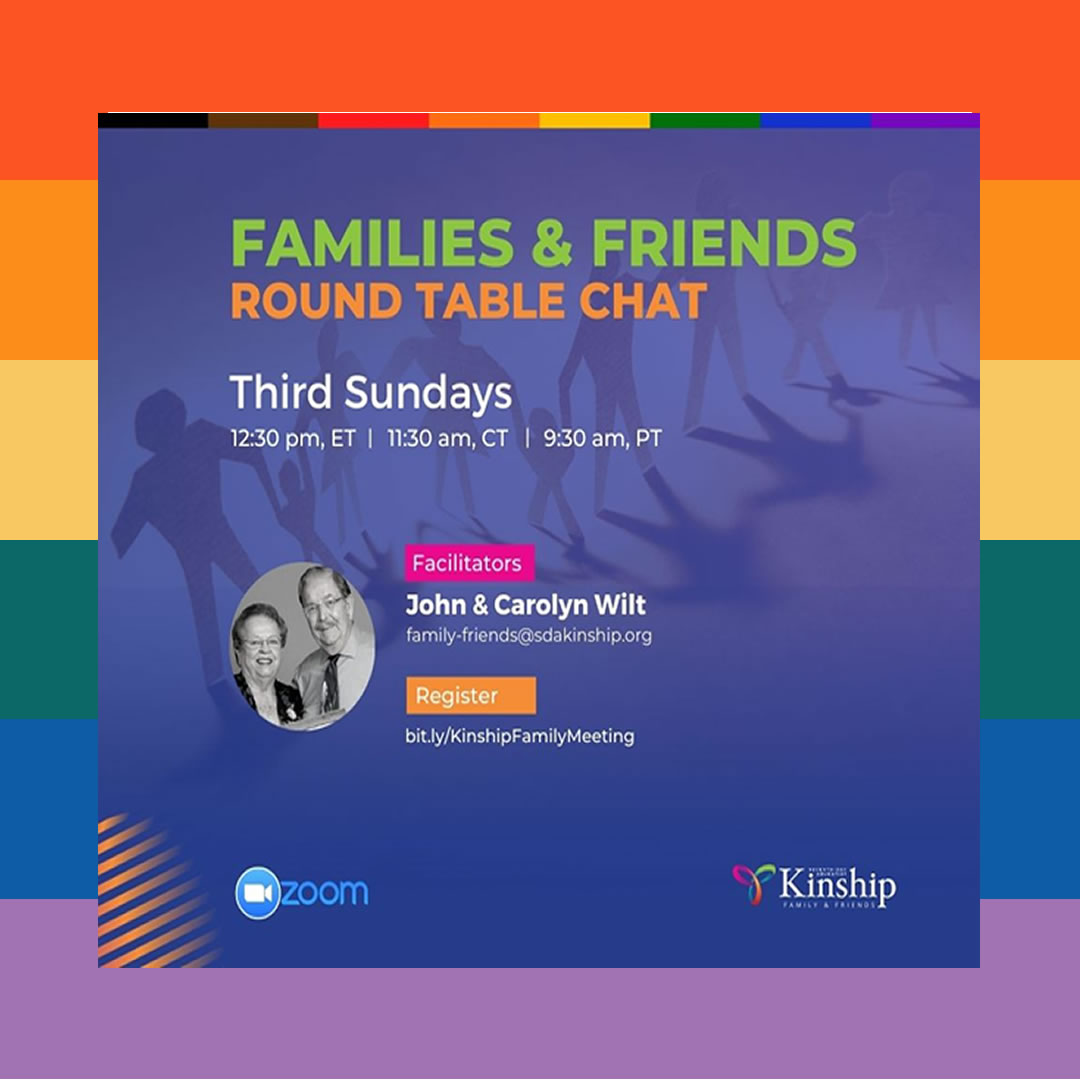 Families & Friends Zoom Meeting
3rd Sunday of each month
9:30 AM PT / 12:30 PM ET (US)
Presenters:
John and Carolyn Wilt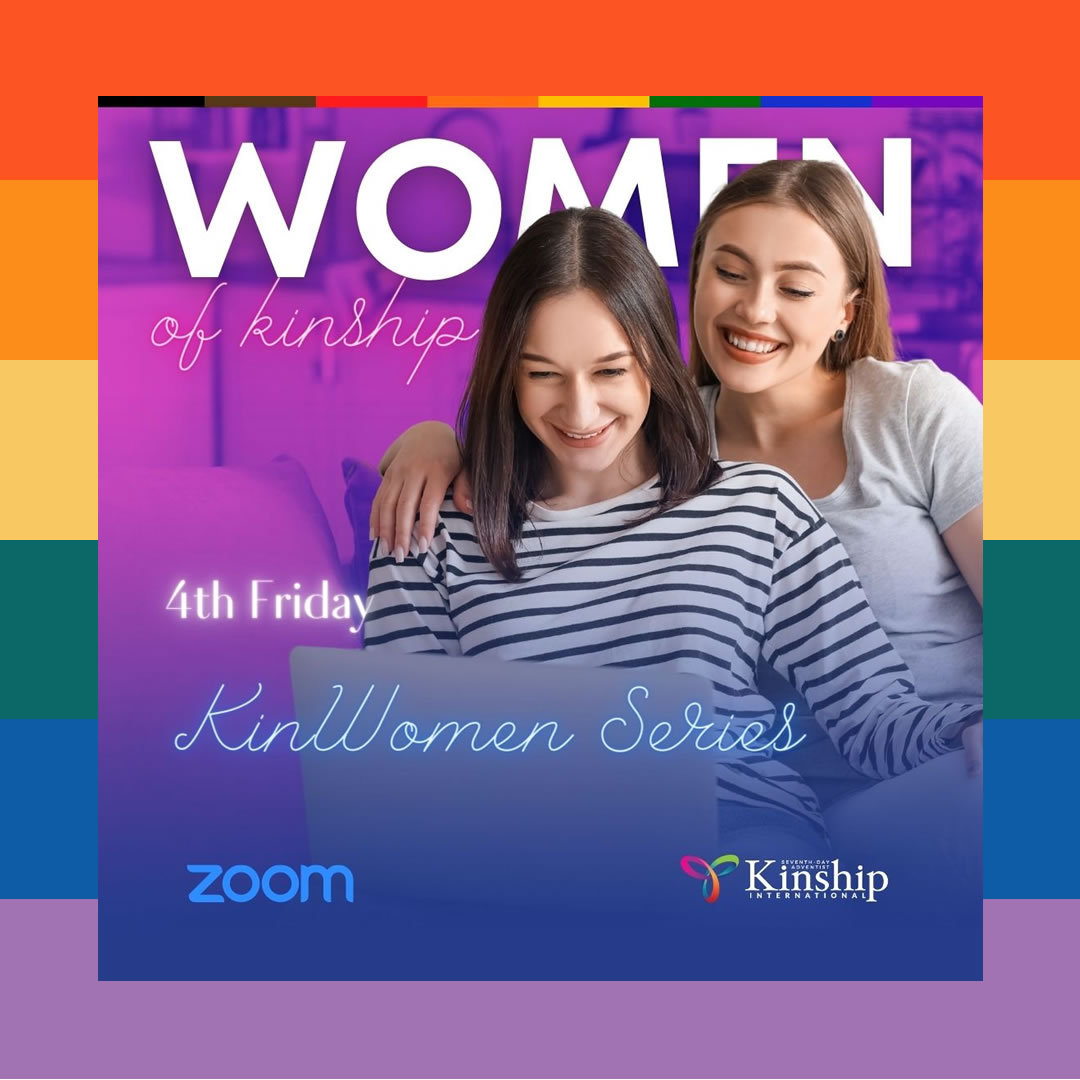 4th FRIDAY KINWOMEN SERIES
Arlene Taylor, Speaker


Answering Your Questions on the Brain
Friday, June 24, 2022
7-8:30 PM ET (US & Canada) | 6-7:30 PM CT (US & Canada) | 4-5:30 PM PT (US & Canada)
LEARN MORE...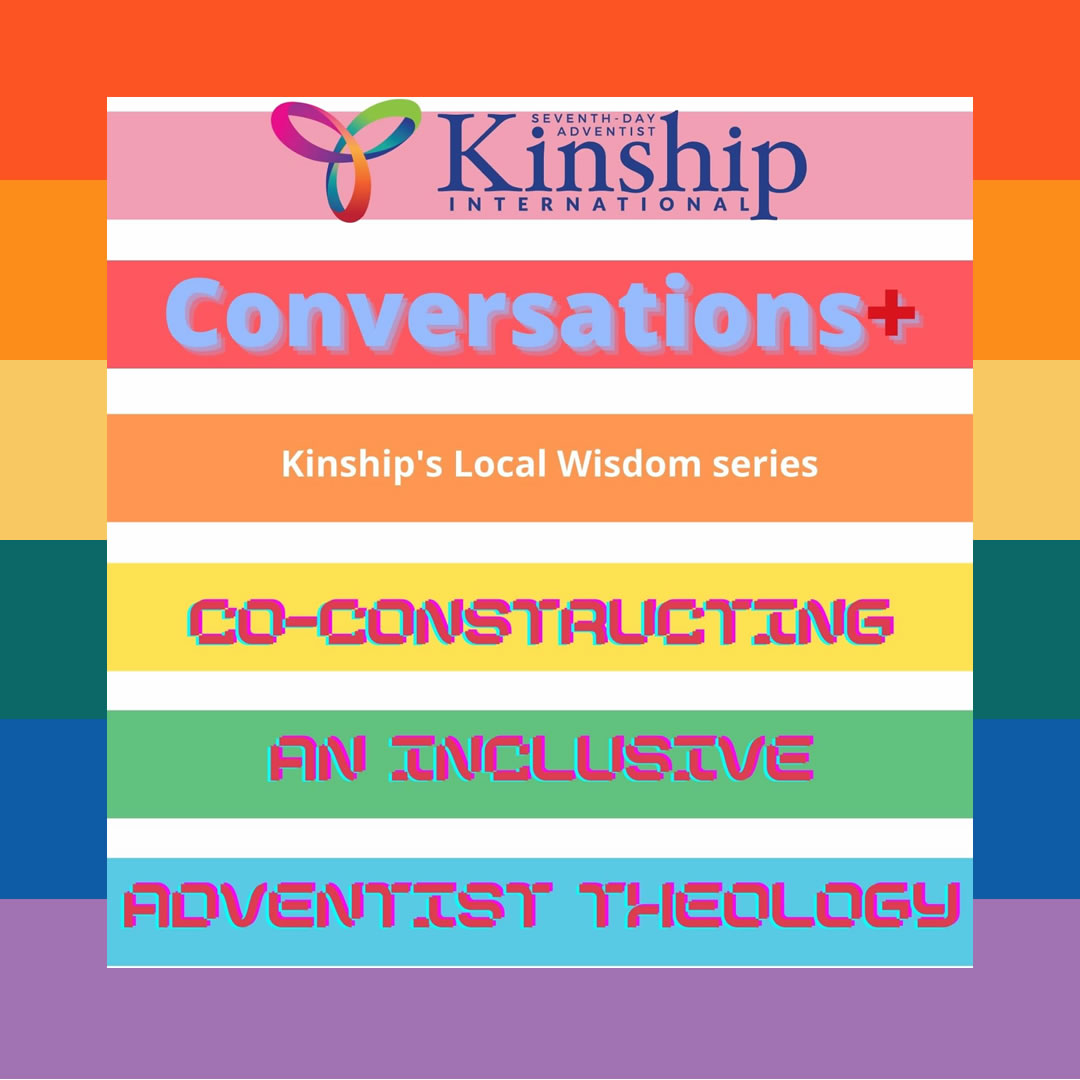 LOCAL WISDOM SERIES
Co-Constructing

an

Inclusive Adventist Theology - Part II
Sunday, June 26, 2022
5 PM GMT | 1 PM ET US | 12 PM CT US | 10 AM PT US


LEARN MORE...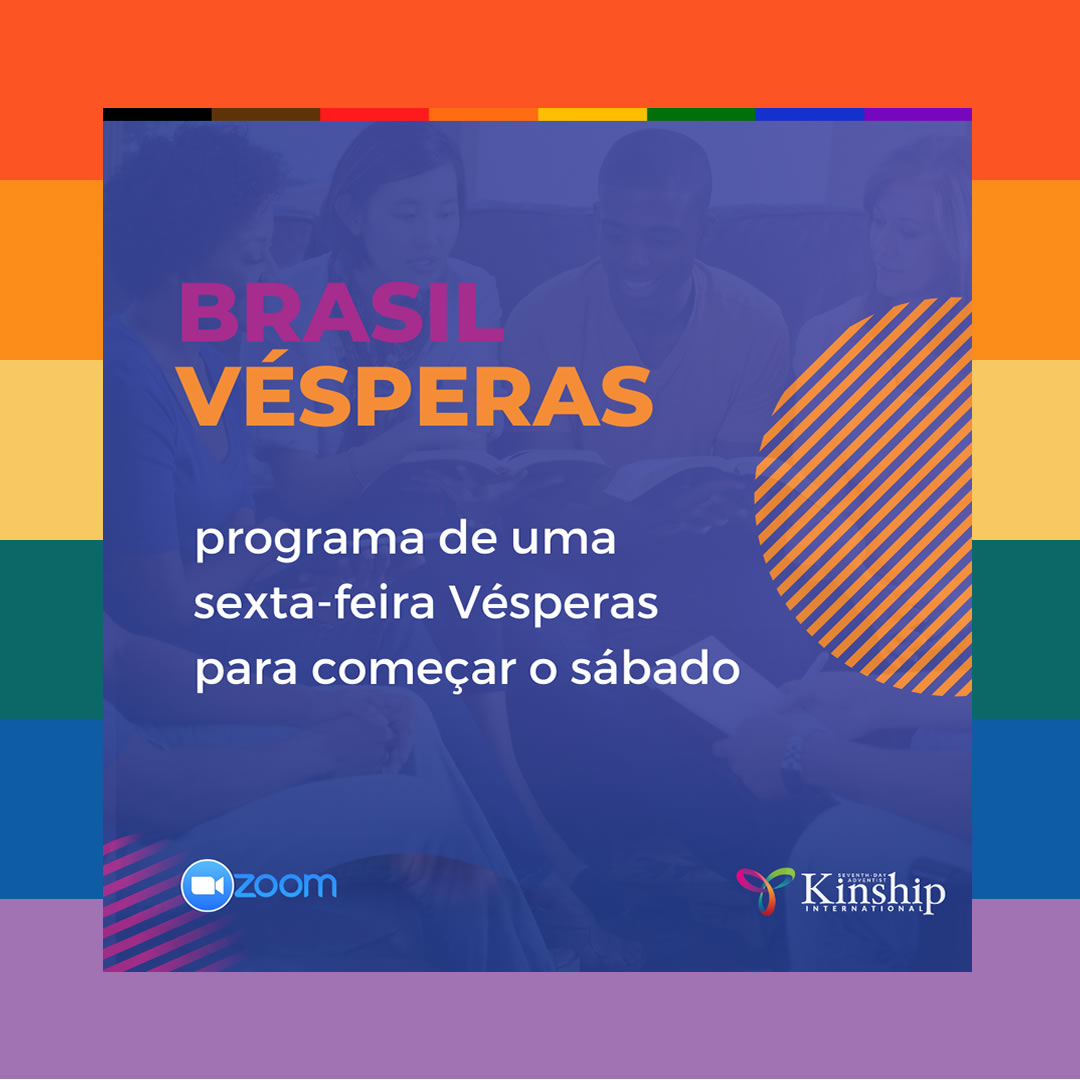 Resenha Kinship
20h Horário de Brasília Resenha Kinship é o programa de uma sexta-feira Vésperas para começar o sábado (em Português) Para detalhes, entre em contato com; kinshipbrasil@sdakinship.org.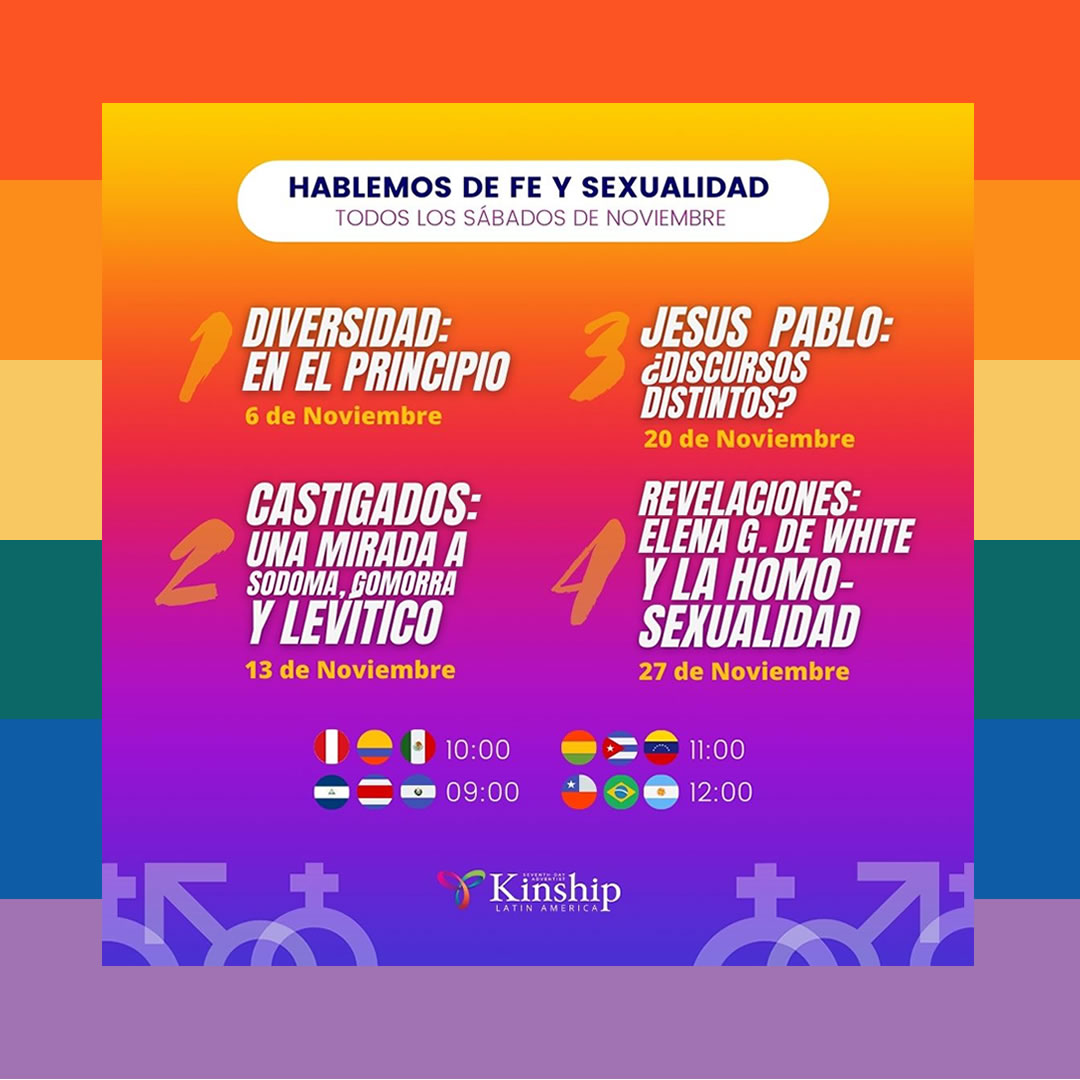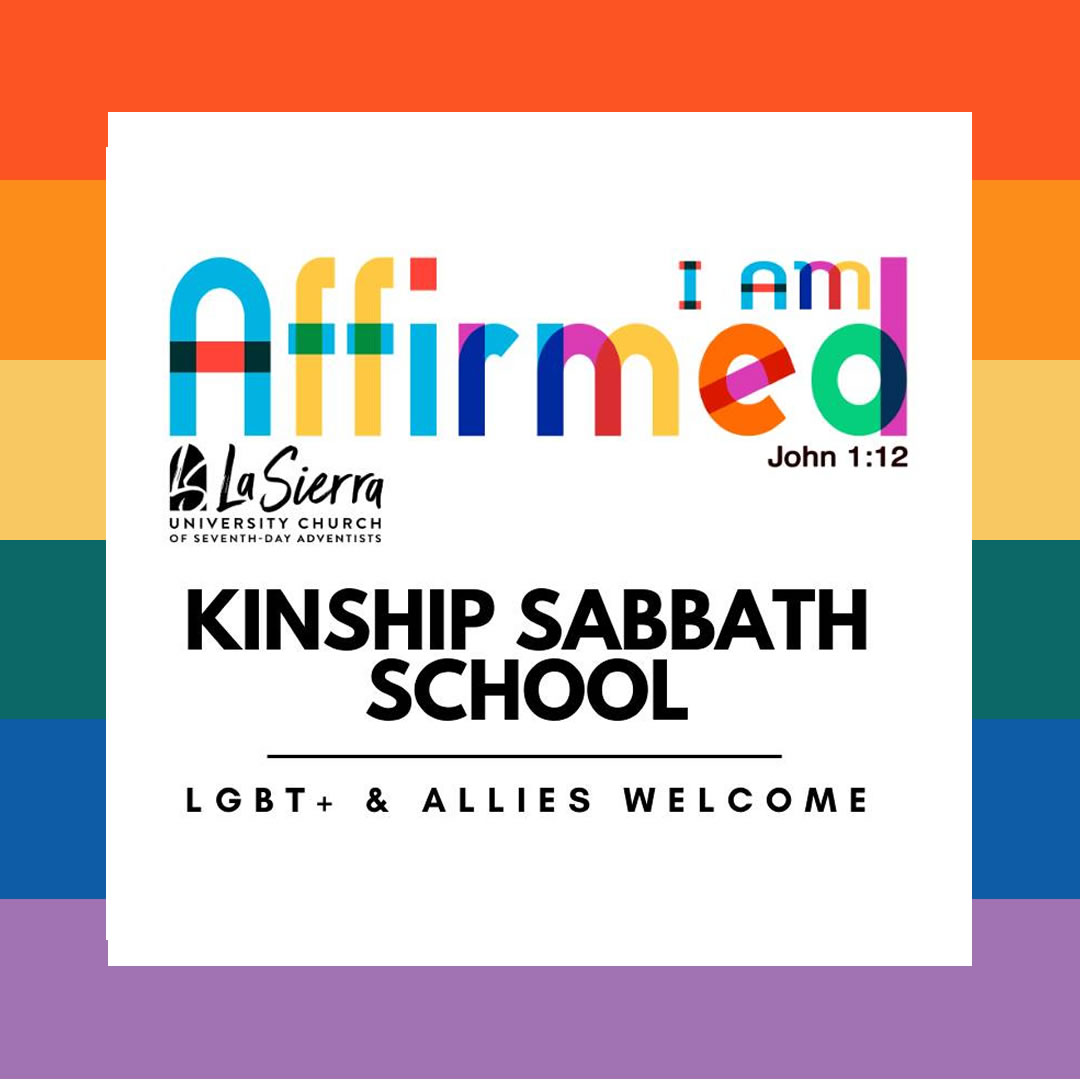 SDA Kinship Sabbath School
SDA Kinship Sabbath School is an accepting, affirming and safe space for LGBT+ & Allies that meets every Saturday at 10 AM PT (US) for fellowship, bible study and community.
LEARN MORE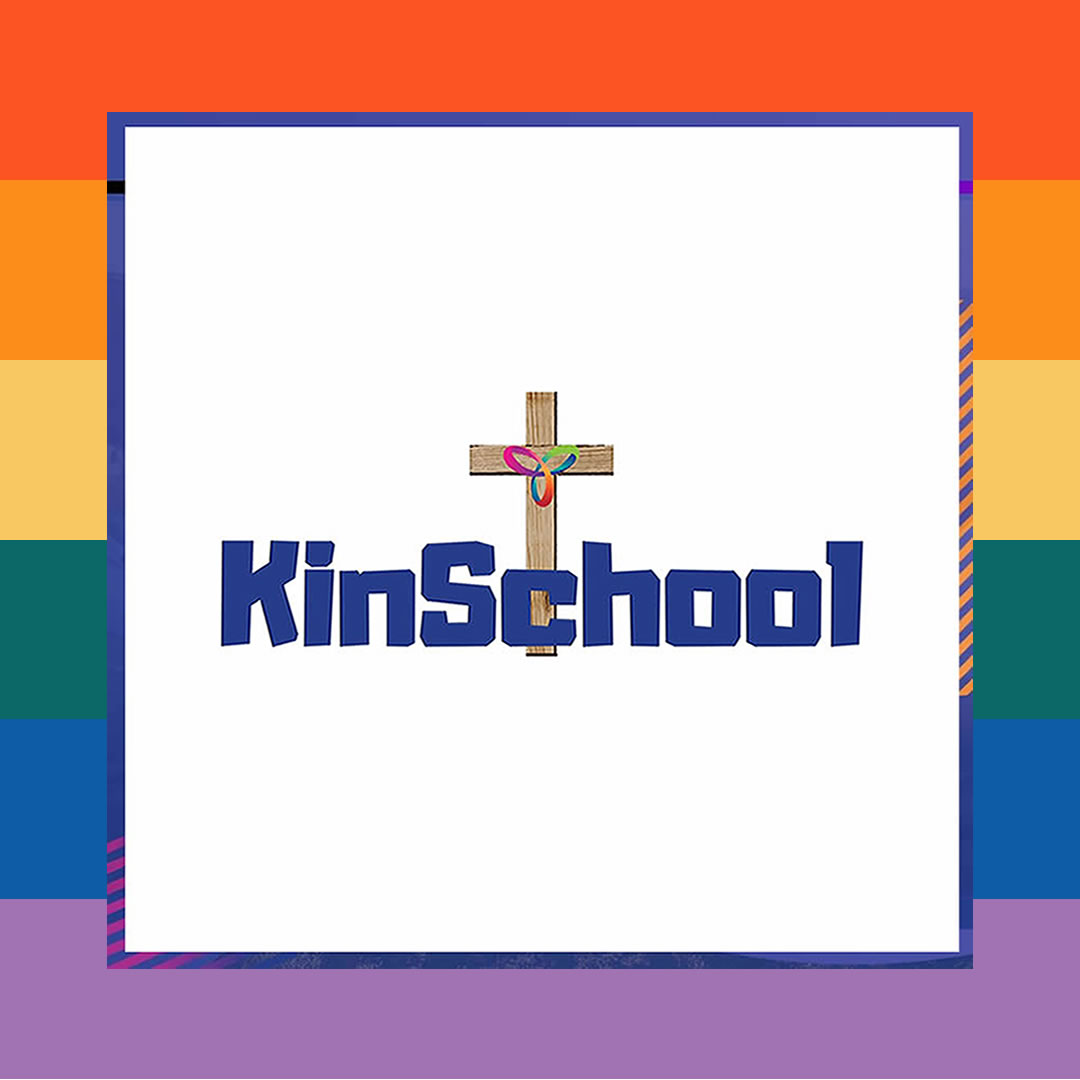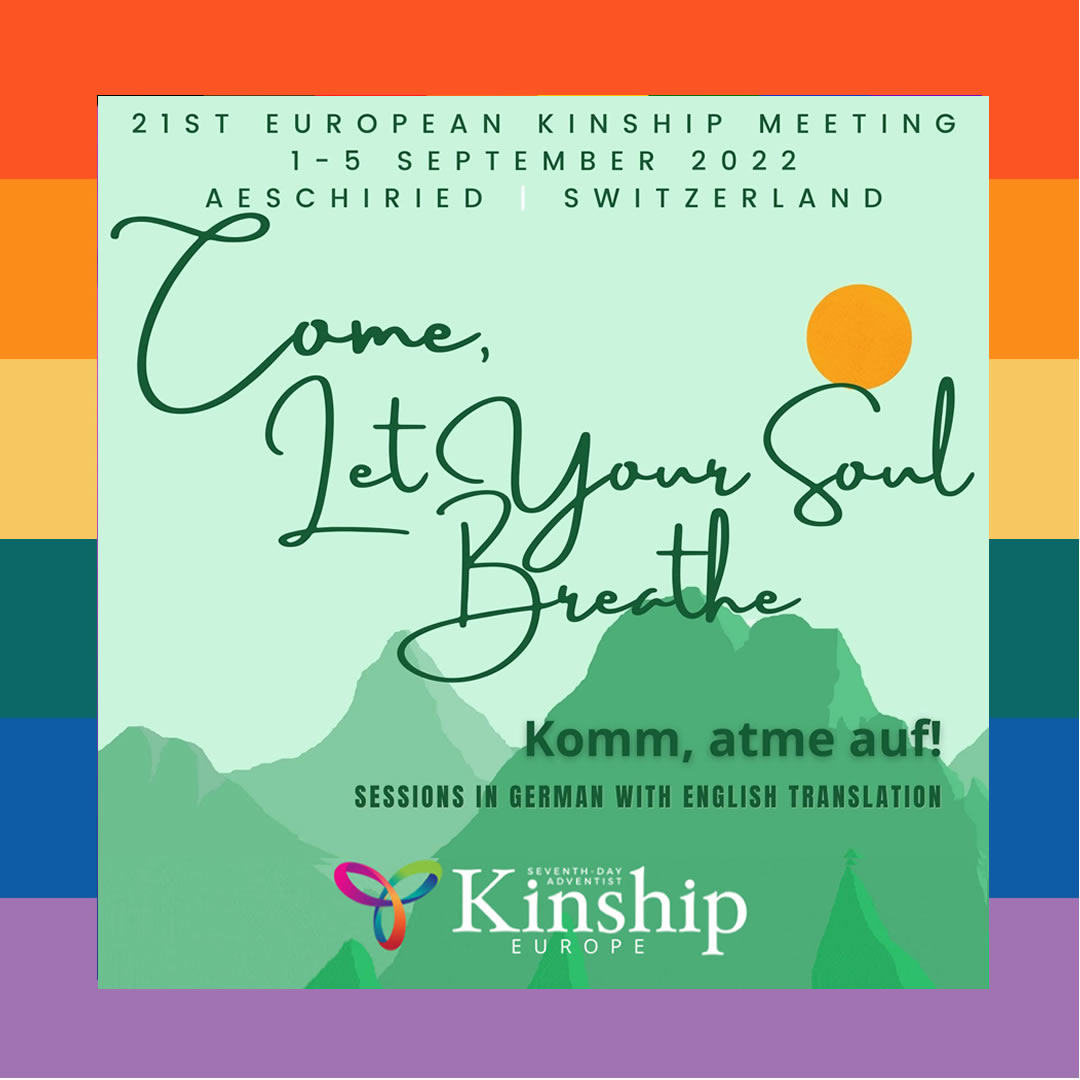 European Kinship Meeting
European Kinship Meeting for 2022 will be in the beautiful Lake Thun area of Switzerland from Thursday, September 1, 2022 to Monday, September 5, 2022. Most meetings will be in German with English translations provided.
LEARN MORE...