1 minute reading time
(269 words)
FAMILY AND FRIENDS
WELCOME SDA KINSHIP WORLDWIDE

John & Carolyn Wilt, Directors-at-Large
Families & Friends Coordinators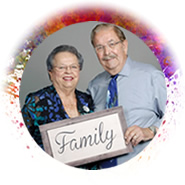 Our entire world has many "rainbow families"—families with LGBTQA+ members—and they need to discover SDA Kinship and its worldwide availability for understanding, connecting, and accepting all those searching for a safe Christian "rainbow" organization.
October is our annual focus on "Kinship Awareness Month." All of us can, and are invited to, reach out to one family searching for connections and one ally searching to support a very worthwhile cause, and invite them to explore SDA Kinship and its many worthwhile activities.
Kinship continues to grow daily, including our Families and Friends group, thanks to others reaching out and inviting them to join, connect, and often take part in our monthly Zoom roundtable discussions. It's exciting and refreshing to see many new allies also.
Remember, "Jesus never looked the other way—and neither should we!"
Carolyn shares this statement often: "When a rainbow family member comes out of their closet, the family members go into their closets." Kinship leaders are available to support and walk with our members on their own personal journeys. Maybe we should create a new target called "CHOYCE"—that's "choice" verbally—and it stands for:
Charging Out Of Your Closets Excitedly
We would be pleased to assist all family and ally members sharing about CHOYCE and help guide and support opening all closet doors, and journey beside them as they learn to accept, love, and support their entire family.
THANK YOU, SDA KINSHIP, FOR BEING AVAILABLE AND SUPPORTIVE OF WORLDWIDE "RAINBOW FAMILIES."
HAPPY KINSHIP AWARENESS MONTH!
Stay Informed
When you subscribe to the blog, we will send you an e-mail when there are new updates on the site so you wouldn't miss them.