FAMILIES & FRIENDS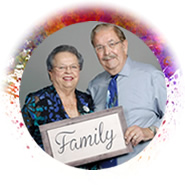 SOME 2021 KINSHIP KAMPMEETING HIGHLIGHTS
In both of his Sabbath presentations, Reverend Brandon Frazier shared many excellent observations and understandable bits of wisdom. Personally, I can easily fall off a presenter's verbal trail when it becomes too complicated and twisted using too many verses and even chapters. Reverend Frazier took a few complex subjects and simplified them with understandable bullets that he wove into wise and meaningful thoughts and opinions.
Carolyn and I comfortably learned some new and useful ways to "see" Jesus and his goals. If you missed one or both of his presentations, they were recorded; and we highly urge you all to go to our Kinship website and watch the excellent presentations. [I would suggest putting a link here to the presentations.]
Well enough introductions. Let's look at a few of his "bullets" and take a few minutes thinking about them. He opened his first presentation using material from Matthew reflecting on Jesus' "Love Letter" to all of us. He planted this first thought: "Christianity is not a movement; it is a relationship!" followed by these thoughts and facts: "Religions basically focus on being holy; they focus on rules, not relationships. Many members can follow the rules of the faith but not be in a relationship with Jesus!"
We know some Adventist families with LGBTQIA members where their local church and members have ignored the harsh "rules" and lovingly accepted all the family into the congregation. But we also continue to hear and meet other Adventist families that have been bruised and hurt when they and/or their family member have been judged by the rules and pushed away. A very painful experience to loyal Christian families who love their family member and would like to "love" their church as well.
Reverend Brandon added another wise thought: "Relationships produce revelations"! We looked up the definitions for "revelation" and it means "a striking and often expanded understanding" about a specific topic or belief. That's an outstanding and meaningful statement. As we, you, and I create meaningful relationships with all of our family members, we build bridges of understanding and support which expand and deepen our understandings of each other. We can, and hopefully, will generate many continuous moments of loving revelations which Jesus asked us to do many times in his short time with "us."
As Reverend Brandon shared "Relationships with each other can help us be WHOLEY"—it's living our lives outside the walls of the church" and Carolyn and I want to add: It's living our lives within our families and showing understanding, acceptance, and loving support to everyone. As you become stronger and more "wholey" within your family you can also reach out to other families you may meet traveling the same paths your family has, and you can also help share "revelations."
Please feel comfortable and free to join our monthly Families & Friends Round Table on ZOOM, 3rd Sunday each month at 9:30 AM Pacific Time (U.S.A.). We have seen families connecting during the discussions or later as private connections are made and heard or learned of wonderful loving revelations shared and occurred. We never know when a challenge is shared and others lovingly share their own experiences what beneficial reactions occur—BUT they do! You are all Jesus' family helpers; let's help carry out "Jesus's Love Letter".
Remember: Jesus never looked the other way - and neither should we!
—John and Carolyn Wilt, Families & Friends Coordinators
This email address is being protected from spambots. You need JavaScript enabled to view it.