Oktober eNews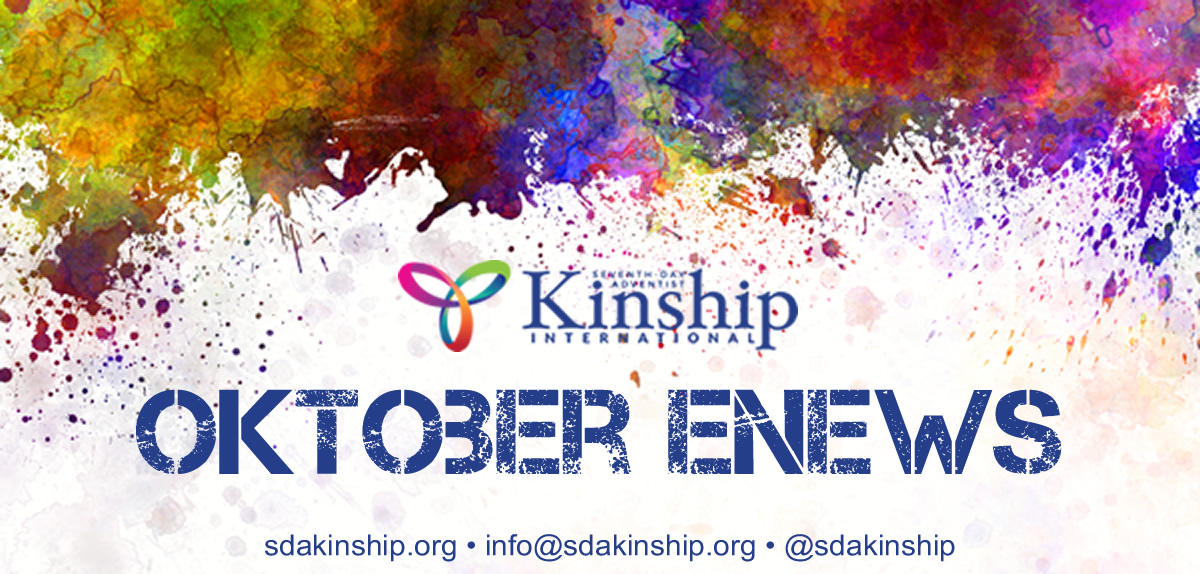 PRESIDENT'S

MESSAGE



Happy Kinship Awareness Month!
A couple of years ago, we voted to make the month of October a time to raise awareness of Seventh-day Adventist Kinship International. Since October 11 is National Coming Out Day, we decided to take the entire month to celebrate and affirm who we are. Some of us can do this publicly and others can certainly celebrate in the safe space that Kinship provides for our community.
SDA Kinship has over 41 years of history, and we are still in the process of coming out as an organization. As long as there are Adventists, specifically LGBTQIA+ Adventists or families and loved ones of LGBTQIA+ Adventists who don't know we exist, we still have work to do; and we must continue this coming out process. Every Adventist who needs a safe space and needs to be told that they are loved unconditionally should know about SDA Kinship and be able to find us. Daily I hear from new folks who are hearing about us for the first time and are so excited that we exist.
I like to view our community as the elite cream of the crop of Adventism. Many have endured hardships and enormous stress just for being who they are. It's something they have no control over or choice in the matter, but yet they have to be careful and navigate around friends, church family, and biological family. Here, with your Kinship family, you can be 100% yourself. Being open with family has always been the most difficult hurdle in the coming out process and it continues to be so. No one can tell you when the correct time is to "come out." Only you know when that might be. But rest assured that there is life after coming out. It might not always be easy, but you will feel an enormous burden off your shoulders as time heals and things get better. Your safety and self-care come first. Your SDA Kinship community cares about you. Post in the Facebook and WhatsApp groups and let us know what is going on so we can pray together and be there for you when you need us most.
Let's make October a month of celebration, looking back at where we came from and looking forward to where we would like to be in our Kinship community. We have some fun things planned for celebrating Kinship Awareness Month, and we hope you will join us and take part in the events.
If you have any suggestions on how to share our community with other Adventists, please let me know. If you'd like to volunteer and help make this magic happen, we'd love to have you be a part of the team that creates programming and education for others. It is time to shout it from the rafter of the churches, schools, and everywhere we can that we are LGBTQIA+ current and former Adventists and that we are survivors and we invite others to join us in celebrating this. Our stories are powerful and each of us has a unique story to share. I invite you to take 60 seconds and briefly share what it means to you to be LGBTQIA+ and coming out in an Adventist setting. What would you like the church and your friends to know about you? You can easily post it here: bit.ly/KAM21StoryInfo.
We are about community and sharing our message with others. If you know of someone who is LGBTQIA+ and Adventist, please tell them about us and encourage them to join us. If you have come out to your parents, invite them to join SDA Kinship and let them know we are a community for them as well. They can interact with other parents and families and draw strength and understanding from the Families and Friends community of SDA Kinship.
Stay tuned to the Kinship Awareness Month programming and join in helping to make it a blessing for you and share it with your friends. Last, I would love to hear from you about what you would like to see Kinship do in the next year that would be meaningful to you. What would help you make a more valuable connection with Kinship and our community? It will take all of us working together to bring about the awareness that we need to provide to those who need to know about us. Feel free to reach out to me at: Diese E-Mail-Adresse ist vor Spambots geschützt! Zur Anzeige muss JavaScript eingeschaltet sein., WhatsApp +1 214 718 8177, or Facebook Messenger.
Be blessed and celebrate Kinship Awareness Month with us!
— Floyd Poenitz, President
SDA Kinship International, Inc.

NEW INTERIM VICE-PRESIDENT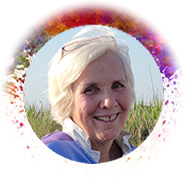 I am happy to announce that we have appointed a new interim Vice President to fill my previous role before being elected as President. After deep consideration, the Kinship Board is excited that Catherine Taylor has agreed to serve out the current term of Vice President. Catherine is certainly no stranger to SDA Kinship and has been connected with the organization since 1981 and has served in numerous capacities through the years. She has a passion for people and their stories. Among many other contributions, she was the Connection editor for more than 12 years and led the Building Safe Places project for several years. I believe that Catherine will be a very positive addition to the Kinship Leadership Team. Please stay tuned for additional projects and important changes we will be making to the organization to make it even more appealing and relevant to those who need its message today. We will feature Catherine and other Board members in upcoming media.
—Floyd Poenitz, President
Diese E-Mail-Adresse ist vor Spambots geschützt! Zur Anzeige muss JavaScript eingeschaltet sein.

CHURCH RELATIONS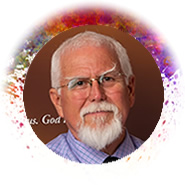 The story is told of a king who held a race in which all the young men in his kingdom were invited to participate. A bag of gold was promised to the winner.
On the day of the race, the young men assembled and started running at the sound of the fanfare. At a certain point in the course the runners found a large pile of stones, around which, one by one, they managed to scramble over or around. Gradually, the runners crossed the finish line. After almost everyone had finished the king refused to declare a winner.
Finally, a young man crossed the finish line, his hands and fingers bruised and bleeding. "I apologize for taking so long to finish the race, O king," said the young man. "But as I was running I came upon a large pile of stones. I managed to move them out of the way, wounding myself in the process. But at the bottom of the pile of stones, I found this bag of gold." He held up the bag for all to see.
"My son," said the king, "you have won the race. For that one runs best who makes the way safer for those who follow."
I'm writing to pay tribute to members of our Kinship Advisory Council who've made the way safer for those who follow. Our Advisory Council is made up of friends and allies who meet regularly to influence the larger Adventist Church to be more inclusive and welcoming to LGBTQA+ individuals and their families.
First on the list is Fritz Guy and Larry Geraty, both scholars of renown and both former presidents of La Sierra University. As Kinship was gaining momentum, they were among the first to attend Kinship gatherings as officially sanctioned representatives of the church. Their influence over the past 40 years has been profound
Another is Rudy Torres, an ordained minister who has served as senior pastor in some of North America's largest Adventist churches. In the late 1980s, when AIDS was largely unknown, and bigotry against gays and lesbians was at its height, the Glendale (California) City Church, of which Torres was senior pastor, intentionally welcomed members of the queer community.
David and Bronwen Larson have also been staunch allies of Kinship from their home in Loma Linda, California, where Dave recently retired from the faculty of the school of religion at Loma Linda University. They, too, have made the way safer for those who follow. Recently, Dave, Bronwen, Rudy, Fritz, and Larry willingly stepped away from being on the Advisory so that its membership could be younger and more diverse. We owe them our thanks.
I could mention others; the list is long. But most important is to remember that our present efforts to bring justice, equality, inclusivity, and grace to our churches and communities are never-ending. Kinship will always need people who make the way safer for those who follow.
Stephen Chavez, Director of Church Relations
Seventh-day Adventist Kinship International

KINSHIP WORSHIP


Kinship Worship takes place each 1st Friday night of the month. Kinship Worship is a program for us and by us. Watch the October video HERE.


CHAPLAIN KUMAR DIXIT - OCTOBER DEVOTIONAL


MONTHLY EVENTS FOR OCTOBER


October 1

Kinship Worship
►Friday @
►8 PM ET (US)
►7 PM CT (US)
►6 PM MT (US)
►5 PM PT (US)

English

October 8
KinWomen Zoom Chat
►7:30 PM CDT (USA)


►

8:30 EDT (USA)


►

5:30 PM PDT

(USA)

English

October 17

Families & Friends Roundtable


►Sunday
►9:30 AM PT (GMT+8) (US)
►12:30 PM ET (US)

English
TIME CONVERSION CHART
ET(US)
CT(US)
MT(US)

PT(US)
ET(AU)

(

BOL/PR
/RD/CH)

(

BR/
ARG)
(COL/PE
/CDMX)
(

ES

P/FR
/GER)

(

NIC/CR
/PAN)

8 AM

7 AM

6 AM

5 AM

11 PM

8 AM

9 AM

7 AM

2 PM

6 AM

11 PM

10 PM

9 PM

8 PM

2

PM

11 PM

12

AM

10 PM

5

AM

9 PM

10 AM

9 AM

8 AM

7 AM

1 AM

10 AM

11 AM

9 AM

4 PM

9 AM

12 PM

11 AM

10 AM

9 AM

3 AM

12 PM

1 PM

11 AM

6 PM

11 AM

1:30 PM

12:30 PM

11:30 AM

10:30 AM

4:30 AM next day

1:30 PM

2:30 AM

12:30 PM

7:30 PM

12:30 PM

7

PM

6

PM

5

PM

4

PM

2

AM

11

AM

12

PM

10 AM

5

PM

10

AM

2 PM

1 PM

12 PM

11 AM

5 AM

2 PM

3 PM

1 PM

8 PM

1 PM

8:30 PM

7:30 PM

6:30 PM

5:30 PM

11:30 AM

8:30 PM

9:30 PM

7:30 PM

2:30 AM

7:30 PM

9 PM

8 PM

7 PM

6 PM

11 AM

9

PM

10

PM

8 PM

3

AM

9

PM



WEEKLY EVENTS

OCTOBER




Kinship Brasil


Diese E-Mail-Adresse ist vor Spambots geschützt! Zur Anzeige muss JavaScript eingeschaltet sein.

►Sextas-feiras às 20h


►Hora de São Paulo

Português

Kinschool Brasil
Diese E-Mail-Adresse ist vor Spambots geschützt! Zur Anzeige muss JavaScript eingeschaltet sein.

►Sábado às 15h
►Hora de São Paulo

Português

Kinship Sabbath School


Join the private Facebook group
►Saturdays @
►10 AM PT US)
►12 PM CT (US)
►1 PM ET (US)
In Person &


English

Meditaciones Entre Nos


Diese E-Mail-Adresse ist vor Spambots geschützt! Zur Anzeige muss JavaScript eingeschaltet sein.
►Saturdays @
►10:00 Hora
►Colômbia / Peru

Español

Sabbath School without Walls


Join the private Facebook group
►Saturdays @ 2 PM
►Australian EST

English
REGIONAL EVENTS FOR OCTOBER


Just Mending the Nets
Meeting ID: 891 8413 6922
Security Passcode: 719251

►Sunday, October 3
►7 PM (London)
►8 PM (Berlin)

English

V Congreso de Familias Diversas
Registrate y Partisipa
@sdakinshipcolombia

►23 y 24 Octobre


MODALIDAD


Virtual y precensial

Español

Maryland / DC Chapter
First Sabbath Lunch
Diese E-Mail-Adresse ist vor Spambots geschützt! Zur Anzeige muss JavaScript eingeschaltet sein.
►Saturday

@


►12 PM ET (US)



English

Maryland / DC Chapter
Friday Night Vespers
Diese E-Mail-Adresse ist vor Spambots geschützt! Zur Anzeige muss JavaScript eingeschaltet sein.

►3rd Friday of the Month
►7:30 PM ET (US)

English

Kinschool Brasil
Diese E-Mail-Adresse ist vor Spambots geschützt! Zur Anzeige muss JavaScript eingeschaltet sein.

►Sábado às 15h
►Hora de São Paulo

Português



WATCH REPLAYS OF KINSHIP KAMPMEETING 2021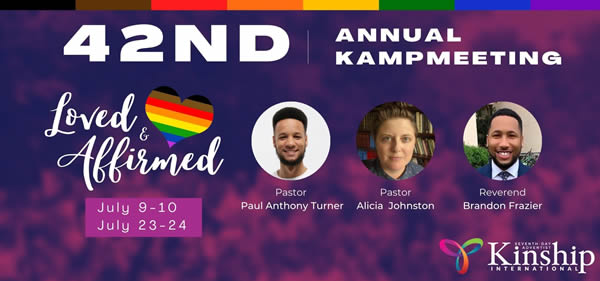 Watch the replays of Kinship Kampmeeting 2021 HERE.

CONNECTING VIA WHATSAPP
SDA Kinship continues to work to connect our members in communities where they feel most comfortable. We have both Facebook and WhatsApp groups for members to join.
There are many groups by location for chapters, regions, and countries. Groups based on languages such as Española, French, and Russian. There is also a Spiritual Group led by the Kinship Chaplain and a Women's Group for the women of Kinship.
If you have questions, please Send Me a message on WhatsApp to get connected, telling me who you are and what groups you are interested in connecting with. You can also send me a message on Facebook to be added to any of those groups.
— Floyd Poenitz, President
Diese E-Mail-Adresse ist vor Spambots geschützt! Zur Anzeige muss JavaScript eingeschaltet sein.

DON'T FORGET TO USE AMAZON SMILE
AmazonSmile is now available as an app. A great way to support SDA Kinship at no cost to you and you can do all your shopping online from the app. You can find it in the App Store for IOS or Google Play for Android.
When making purchases on Amazon.com, remember, if you use smile.amazon.com, Amazon will donate 0.5% of the eligible purchase price to the non-profit that you select! As we provide support and representation within the LGBTIQ community, every penny counts!
When first visiting AmazonSmile, customers are prompted to select a charitable organization from almost one million eligible organizations. To browse or shop at AmazonSmile, customers must first select a charitable organization. Please select Seventh-Day Adventist Kinship International Inc.


Seventh-day Adventist Kinship, International, Inc.
P.O. Box 244, Orinda, CA 94563-0244 USA
Copyright 2021 All rights reserved.
| | | | |
| --- | --- | --- | --- |
| | | | Diese E-Mail-Adresse ist vor Spambots geschützt! Zur Anzeige muss JavaScript eingeschaltet sein. |