2 minutes reading time
(337 words)
KIRCHENBEZIEHUNGEN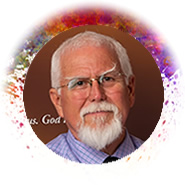 Of all the words that might be used to describe the year 2021, "survival" is likely among the top 10.
Wildfires ravaged much of the west. Tornadoes destroyed major portions of several states just recently, most notably Kentucky. Ice storms paralyzed most of Texas. Drought ruined crops in the midwest and caused water shortages in the west. Record inflation has made "survival" a real concern in thousands of households.
Underlying it all is the pandemic that will not go away. How many of us have lost family members and friends to a disease that is largely preventable by simply getting vaccinated and wearing masks?
While it would be nice to imagine a kinder, gentler 2022, realistically we're looking at much of the same heartbreak in the new year. In all likelihood "survival" will still be the name of the game.
Another word that should be part of our 2021 lexicon is "support." Long after headlines chase the next news event, and relief organizations pack up and move to the next disaster, people are still in need of practical, emotional, and spiritual support. The trauma experienced in a few days or moments of disaster is not easily erased.
Yes, we've survived a year that left many lives in ruins. But we've also enjoyed the joys and rewards of relationships with family and friends. Those of us who survived 2021 mostly intact (and even those who didn't) would do well to take a quick look around. Is there some individual, some community group, some national charity that would benefit from our support, either practical or financial?
Jesus said that cultivating a generous, supportive spirit will be rewarded: "Give, and it will be given to you. A good measure, pressed down, shaken together and running over. . . . For with the measure you use it will be measured to you" (Luke 6:38). Let's not be content with mere survival; let's use our talents to support those for whom we can do good.
It's what Christians do.
— Stephen Chavez, Director of Church Relations
Seventh-day Adventist Kinship International
Stay Informed
When you subscribe to the blog, we will send you an e-mail when there are new updates on the site so you wouldn't miss them.