1 minute reading time
(216 words)
Bermuda church hosts members of US-based 'ex-gay' ministry
January 30, 2015 | by Michael K. Lavers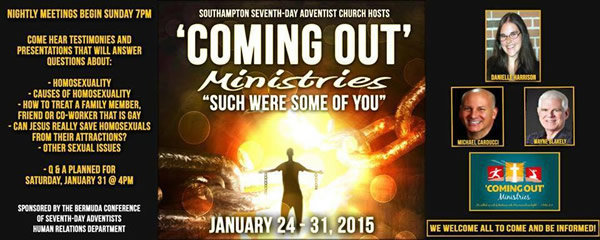 LGBT rights advocates in Bermuda have criticized a local church for hosting a U.S. group that
encourages people to "break free" from homosexuality. (Image courtesy of Maurice Tomlinson)
A Bermuda church this week is hosting members of an Arkansas-based ministry who claim they were once gay.
A flyer the Washington Blade obtained that features a picture of a man with chains hanging from his wrists says Danielle Harrison, Michael Carducci and Wayne Blakely of 'Coming Out' Ministries are at the Southampton Seventh-Day Adventist Church for a series of events the Bermuda Conference of Seventh-Day Adventists Human Relations Department sponsored. These include "testimonies and presentations that will answer questions about" homosexuality and whether Jesus can "really save homosexuals from their attractions," among other issues.
An event described as a "Q & A" is scheduled to take place at the church on Saturday afternoon.
"We welcome all to come and be informed," reads the flyer.
'Coming Out' Ministries on its website states it "would like to share how we found redemption, victory, healing and freedom from homosexuality." It further says that Carducci and Blakely are "living proof that God changes lives when we call out to him, invite him in, fully submit our will and abide in him."
Stay Informed
When you subscribe to the blog, we will send you an e-mail when there are new updates on the site so you wouldn't miss them.